As an architect with many years of experience, I have used many professional design software , such as Vectorworks, AutoCAD, etc., now using Archicad - the latest BIM software . So, how to evaluate the Zhongwang CAD+? If you use Archicad to compare Zhongwang CAD+ (hereinafter referred to as "Zhongwang CAD+"), the two are not comparable. Therefore, I compare Zhongwang CAD+ with the previously used Vectorworks and AutoCAD software , which is reasonable for users who have specific needs for CAD software , especially for individual users and small and medium-sized enterprises. Reference value.
It is emphasized here that in 2012, Zhongwang Software released Zhongwang CAD+ in Guangzhou, China. This version is regarded as the challenger of AutoCAD, and the price is lower, so it is more reasonable to compare these two products.
If you are a user of AutoCAD, then when you open CAD+ for the first time, you will obviously feel that the interface is very familiar, such as ribbon, tool palette, command bar, model and layout space, etc., these displays are very similar. . This similarity is very meaningful for users who have used or are using AutoCAD, because they do not need to learn more, they can master the skills of using CAD+.
The user interface of Zhongwang CAD+ is very similar to AutoCAD. Even users who have used AutoCAD can hardly distinguish the difference. This is a huge advantage. On the other hand, the two functions of Zhongwang CAD+'s gesture wizard and tab gave me a surprise. Below, I will introduce these two functions in detail, and explain the main functions of Zhongwang CAD+:
Zhongwang CAD+'s Gesture Wizard allows the user to invoke the corresponding CAD commands using mouse actions. In this regard, the user can change the settings of the mouse wizard according to personal usage habits, including turning the function on or off. As shown in Figure 1 below, the user invokes the command to create a new drawing with the action of the mouse up.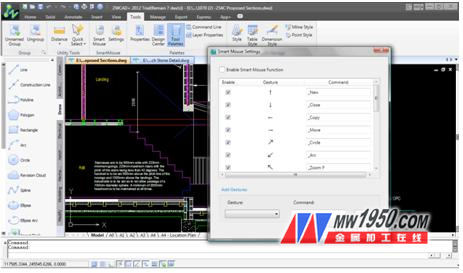 Figure 1: Dialog box for the CAD+ mouse wizard settings
Another feature that I find useful is the tab. When I open multiple drawings with Zhongwang CAD+, the tabs make it easy for me to identify the graphic files I need, which saves a lot of time, especially when there are cross-references between the drawings. Multiple tabs are shown in Figure 2 below. Click on any of the tabs to quickly access the drawing. This action is not easy to implement in AutoCAD, and users often have to spend more operations to complete.

Figure 2: Zhongwang CAD+ select graphics function
In addition to the two important features mentioned above, there are two other important features in Zhongwang CAD+ that can improve user efficiency:
First, unique memory optimization technology
In the case of complex design work, Zhongwang CAD+'s new memory optimization technology can reduce the memory consumption of users by 50% compared with the previous ones. This is the deep reason why Zhongwang CAD+ can smoothly run more than 100MB drawings. In the release of memory accumulation, Zhongwang CAD+ performs equally well, ensuring users to work all day without interruption. This technology helps improve the design efficiency of handling large and complex drawings.
Second, large raster images are displayed accurately and run smoothly
In the survey and construction industry, there are many application documents with raster images, which have higher performance requirements for CAD software . If you use the Zhongwang CAD+ to insert a raster image into the graphics file, you can see that the display of each detail of the image is completed in a blink of an eye, thanks to the results of the image enhancement process. The larger the drawing, the stronger the contrast between the old and new versions. To my surprise, Zhongwang CAD+ can even support more than 1GB raster image files.
in conclusion:
About Zhongwang CAD+, many well-known professionals have been evaluated, including its characteristics, relevance to AutoCAD, industry applicability and so on. The content of this article is based on my own architectural design industry, combined with the experience of AutoCAD, for the most prominent functional features of Zhongwang CAD+ for me, I hope to give CAD users some reference. Overall, although I am used to BIM for architectural design, I think Zhongwang CAD+ is a very good professional design software . Its high similarity with AutoCAD can effectively reduce the cost of use, especially for small and medium-sized enterprises with budgetary cost pressures, maybe BIM technology is not necessary. The most important thing is that Zhongwang CAD+ has all the creation functions and simple operations provided by AutoCAD, and at the same time adds more practical and convenient functions, which is fully capable of designing the industry.
About the Author:
Glenn Cavill, a British architect who provides architectural services to the world; has a bachelor's degree in computer-aided design in the University of Huddersfield, and has more than 10 years of experience in personal development, interior design, and especially residential design. Experience in designing services.

Micro tubule cluster pipe/tube
With HDPE (high density polyethylene) uPVC as the raw material, ext-ruder is extruded to make plastic molding production, the single hole wall intersect, a kind of cable sheath pipe of close melting boundary.Products are waterproof, moisture-proof, anti-aging, long service life, and good weatherability characteristic, at the same time, since it is a one-time molding integration porous protect casing, so the construction is convenient, increase the number of embedded holes, to improve the construction speed, greatly reduces the engineering unit of materials and construction cost.
The inner wall of this kind of pipe is smooth and can be used for optical cable, which can save working hours, its structure is reasonable, the use value is high, the life is long.It is mainly used for mobile,uni-com, net-com, broadcast and other communication cable sheath.
Application:
It is mainly used for communication cable, telecommunication cable network, length communication line and cable TV broadcast transmission network.It has the advantages of being flexible and flexible, less laying, convenient construction, safe and reliable, and low cost.
Features:
1. Good corrosion resistance, good electrical insulation, at least 50 years.
2. The porous partition is clear, the thread is easy and convenient.
3. The construction is convenient and fast and the construction cost is low.
4. Tight arrangement of holes to improve the utilization ratio of communication holes.
5. Product integration structure, high strength, long service life.
HDPE/UPVC Multi Hole Plastic Pipe
Plastic Pipe With Multiaperture Profile,New Material Pipe,Multiaperture Profile Plastic Pipe
ZHEJIANG BOYA COMTECH CO.,LTD , http://www.zjbytx.com