Basso has proposed a new "liquid cutting tool" strategy. The true meaning of this strategy is that Basso is not only the manufacturer of cutting fluid products, but also the provider of integrated solutions. The three core elements of Basso's core competition, namely, excellent products, excellent service and professional talents, fully combine to form the core value of Basso, and bring this core value to the manufacturing enterprise, creating greater than the manufacturing enterprise The higher value of cutting fluid value. By providing integrated solutions to help customers improve processing efficiency, increase the return on investment of production equipment, and reduce overall costs.
In the overall cost of metal processing in the automotive engine and parts manufacturing industry, the most important cost comes from labor costs, processing equipment costs such as machine tools and tool costs. These three items add up to about 95% of the total cost, while metal processing The liquid only accounts for about 1% of the total cost. When manufacturing companies invest large amounts of money on machine tools and tools, increasing the return on investment in equipment is the most fundamental way to reduce the overall cost, and second is to reduce tool consumption and reduce tool costs. If the metalworking cutting fluid, which is regarded as a simple consumable material in the traditional view, can be an investment in improving production efficiency, and it is an effective way to improve production efficiency and reduce tool loss, it will be for manufacturing enterprises. The comprehensive production cost produces a positive effect with a small stroke and brings about breakthrough changes. Blaser Swisslube AG ("Basso")'s "Liquid Cutting Tools" strategy will work with you to achieve this positive and significant effect.
Many factors in maintenance and replacement of emissions play an important role in the purchase of ideal cutting fluids. Cutting performance is undoubtedly the first consideration of the user, followed by important aspects such as lubricity, cooling, corrosion resistance and chip evacuation. The comprehensive cost performance is also an important indicator in procurement. This refers to the first consideration of the total production cost from a long-term perspective, whether this cutting fluid can really reduce the total production cost. In addition, people will be interested in its environmental characteristics, and the long life of the emulsion itself and the concept of "replacement by maintenance" will also help users to better control costs.
The customer got a clear answer from Basso's Blasocut water-soluble cutting fluid. If only the raw material of the cutting fluid does not contain health-harmful ingredients, it is not sufficient because there is a large amount of external adverse effects in the entire operating cycle of the cutting fluid. And we work side by side with the original natural flora in the water and the original hardness of the water, and control the cutting fluid through the "absolutely dominant number of natural harmless flora" to maintain a natural flora balance. Basso's product itself is Beijing Hanyang, which is absolutely free of bacteria. In the process of mixing with water, the microorganisms naturally present in the water are brought in, which is the harmless flora implanted in the cutting fluid. What we do is to create a living environment that is conducive to these harmless flora, through their occupation of the living space to suppress the survival of harmful bacteria that people do not want. If the hydraulic hardness is too low, we can also harden the emulsion within the allowable range. Proper use of the concentration and proper compounding are also important, as well as proper maintenance of the cutting fluid. We should note that every foreign substance provides a living environment for bacteria or molds that are harmful to humans. Therefore, not only do those good filtration systems have important tasks, but every operator should also clearly understand that they are keeping the cutting fluid clean.
Basso's understanding of excellent environmental performance is also reflected in the long-term stability of the product to achieve the minimum consumption of raw materials. No bactericide is used in all of our stock solutions and cutting fluids throughout the operating cycle to ensure good human fit. If you can control it properly, the bacteria in the cutting fluid can be accepted. Among them are natural "good" bacteria that do not cause harm to the human body. The key is to maintain a relative natural balance and stability, in which "good" bacteria must always maintain an absolute advantage.
Be a true cutting fluid expert 1. Excellent product Productivity improvement strategy must focus on time improvement, "faster, more durable." Faster refers to greater feed rates, deeper depth of cut, better workpiece surface (reducing secondary processing inputs), reduced processing and working time, and greater throughput; longer lasting means longer Stable life cycle, more stable and reliable processing performance, less scrap rate, reduced downtime, and reduced emissions disposal costs.
A new cutting fluid will be tested at least one year before it is officially put on the market, not only for its cutting performance and cooling, lubrication and cleaning performance, but for all aspects. . The level of chemical and biological stability determines whether the corrosion resistance of the cutting fluid can be guaranteed for a long time.
The traditional Blasocut series of cutting fluid products, which are widely used in the metal processing field, are world-leading in terms of design concept, research and development, raw material matching, automated production and quality performance. They have the following excellent characteristics: super lubrication, super Strong stability, versatile performance, easy maintenance and long life.
Today, in order to make users more satisfied with the Blaser brand, Basso has launched a new Blasocut BC series new product. This series of new products is based on the traditional Blasocut series of water-soluble cutting fluids, such as super lubrication, super stability, universal performance, easy maintenance and long life, which greatly enhances chip removal performance and defoaming. Performance and machine cleaning performance, it uses a new emulsifier structure.
2. Excellent service Our professional staff can always be present at the customer's side, providing professional technical support and services to our customers. We have established a professional customer service team, established a comprehensive customer service network, and continue to develop steadily, which is our advantage.
The customer not only receives sufficient basic services from the staff of Basso, but also our professional staff is tailor-made for the customer to implement personalized turnkey projects, allowing customers to enjoy value-added services that enhance value. Basso, from Switzerland, is not only a supplier of cutting fluid manufacturers and products, but also a provider of integrated solutions. This means balancing all aspects, such as improving cutting parameters, reducing tool consumption, preventing machine rust, improving workpiece quality, reducing maintenance costs, protecting human safety and reducing environmental pollution, and providing effective means for users.
3. Professional talents One out of every six people in the Basso company is engaged in research and development work every day. Customers not only get real research results from here, but also get the most direct advice from our local engineers and technicians. For example, combining the various factors of machining to propose the best combination of parameters, so that the product can better play the comprehensive performance, and it can be applied to complex and diverse machining forms and materials. We value training, not just expanding it. We have strong research and development strength, technical advantages and professional knowledge. Customer trust is our driving force, and we are responsible for our customers.
The pursuit of product quality, production efficiency, plastics industry network copyright, and to improve the management level of the entire production process as a competitive means of manufacturing is called "value customers" by Basso, and as a world-renowned machine tool manufacturer, tool manufacturer and cutting Liquid manufacturers, we have a common target market and customer base, and close cooperation with multiple parties can effectively promote their respective business development and bring higher value to customers. Basso's products are used by machine tool manufacturers such as MIKRON, MORI SEIKI, Chiron, DMG, Daewoo, MAZAK, Makino, HELLER and MAG and are recommended for their users. Similarly, such as difficult machining processes such as conduit hole machining and tappet hole machining, it is necessary to select good tools to ensure good processing quality, and also choose Blasowum with high mineral oil content, strong lubricating performance and good flushing and chip removal. High-quality cutting fluids can be achieved, and longer tool life is guaranteed by high-quality cutting fluids. Basso is working with renowned tool manufacturers to find new ways to provide end customers with total tool and cutting fluid management solutions.
4. With the customer's customer base for the automotive engine and component manufacturing industry, the name of Blaser is quite familiar. The traditional Blasocut series of water-soluble cutting fluid with 35 years of application experience always makes it The majority of users are fascinated. Well-known enterprise groups such as FAW Car Co., Ltd., Chongqing Changan Engine Co., Ltd., Chongqing Qingshan Industrial Co., Ltd., Chongqing Changan Suzuki Engine Co., Ltd., ZF, Delphi and Lucas, in their centralized liquid supply system and stand-alone The production line has a wide range of applications and has received consistent praise. In the truck production base of MAN Trucks AG in Nuremberg, Bavaria, Germany, the Blasocut water-soluble cutting fluid is applied in a 220t water tank, which keeps records for more than ten years without dumping and is still in the fill level. The steady state that you can continue to use. The longevity of this is evident.
"Faster, more lasting" is the goal we pursue together with our customers. We can proudly say that our mission is to make every contact between our customers and Basso a pleasant experience.
Tripod ladders are widely used by gardeners and nurserymen. It`s ideal for orchard work, both for picking and pruning. The tripod design makes it very stable and practical.
It's made of aluminum alloy, all connection parts are firmly welded processing, and the foot is with claws and anti-slip. Max load capacity can be 100kg to 150kg.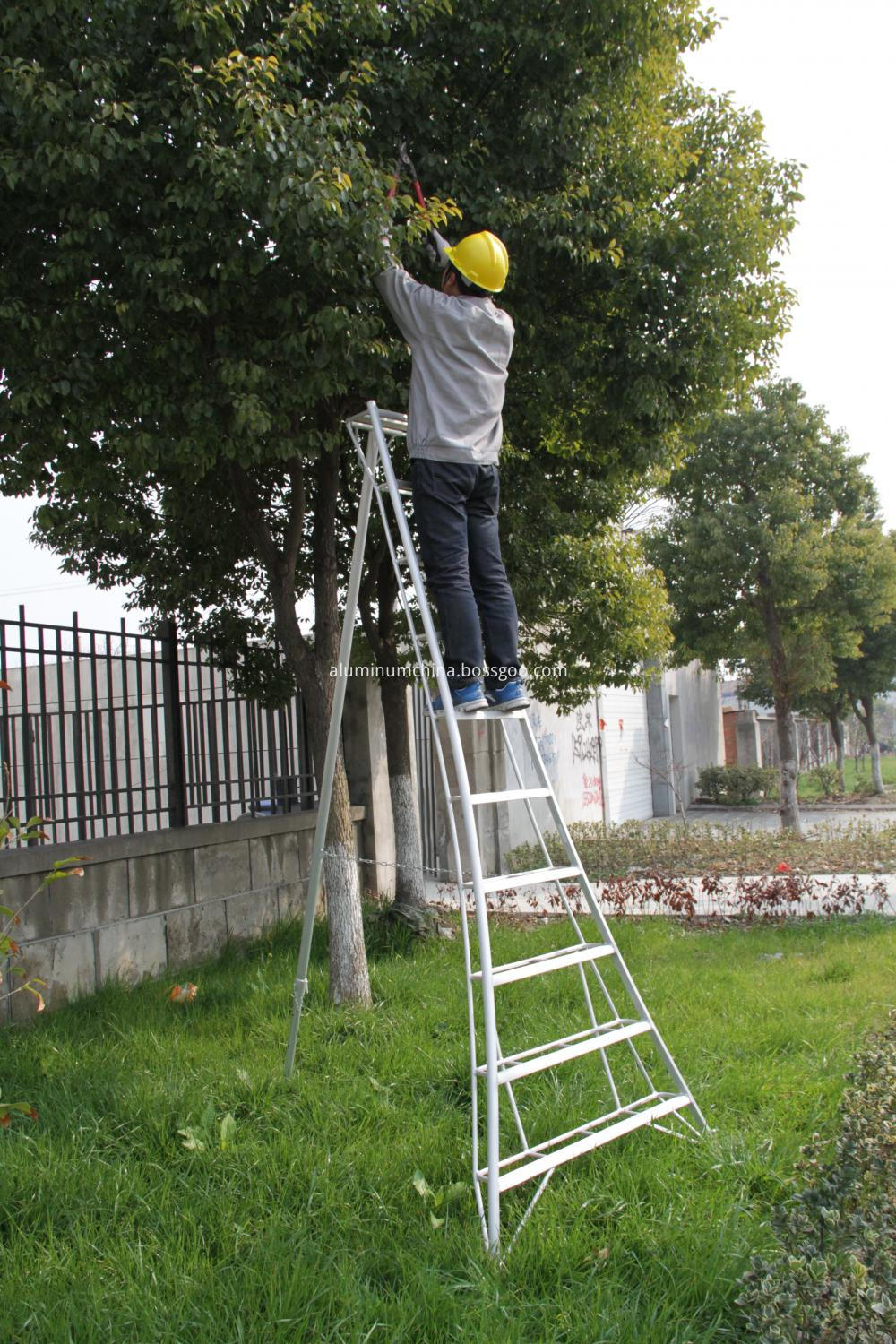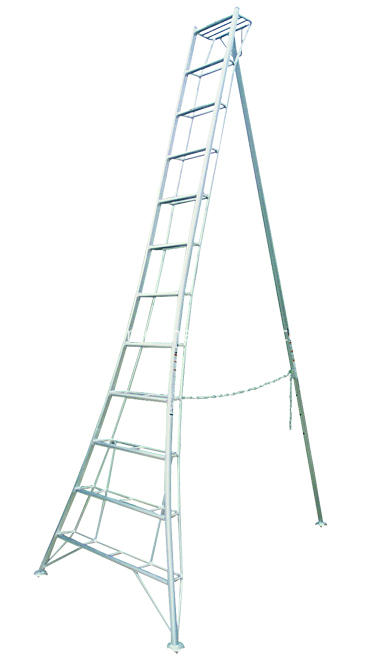 Folding Extension Ladders,Tripod Garden Ladders,Garden Platform Ladders,Tripod Step Ladders
SUZHOU RIZHONGTIAN ALUMINUM CO.,LTD. , http://www.alumi-china.com