Specification:
4"-8", Carton Size: 59x29x23
Safety Standard:
ISO9001:2008
Wheel Bearing:
Double Ball Bearing
Brakcet Finish:
Zinc Plating or Electrophoresis
Available Fitting Type:
Fixed/Swivel/Brake
Lead Day:
10-15days After Receiving of 30% Deposit
Others:
PU on Cast Iron in Optional
Transport Package:
4′′-16PCS/CTN 5′′-12PCS/CTN 6′′-10PCS/CTN 8′′-6PCS
Ball Bearing PU on Aluminum Core Wheel Caster
Four Size available: 4'', 5'', 6'', 8''
[Model Included]: KHX1-H6-AL
[General Feature]:
*Wheel Material: PU on Aluminum
*Color in Red
*Fixed Type/PU
*Double ball bearing
*Housing be made of pressed steel
*6mm thickness for both of fork and plate
*Zinc plating or Electrophoresis finish
*High shock absorption /High abrasion resistance/ High Stain resistance
*Top quantity Competive price
[Others]:
*Wheel Diameter: 100mm, 125mm, 150mm, 200mm
*Tread Width in 50mm
*Load capacity: 320kgs, 370kgs, 480kgs, 520Kgs
*Set Height: 142mm, 164mm, 190mm, 240mm
*Plate Size: 102*115
*Centre Distance of Hole: 85*72
*Hole Diameter in 11mm
*Turning Radius: 82mm, 99mm, 114mm, 149mm
*Special Size can be made upon request.
| | | | | | |
| --- | --- | --- | --- | --- | --- |
| Wheel Size | Wheel Width  | L.Capacity  | Setting Height  | Plate Size  | Spacing Hole  |
| Â 100mm | Â 50mm | Â 320kgs | Â 142mm | Â 102*115mm | Â 85*72mm |
| Â 125mm | Â 50mm | Â 370kgs | Â 164mm | Â 102*115mm | Â 85*72mm |
| Â 150mm | Â 50mm | Â 480kgs | Â 190mm | Â 102*115mm | Â 85*72mm |
| Â 200mm | Â 50mm | Â 520kgs | Â 240mm | Â 102*115mm | Â 85*72mm |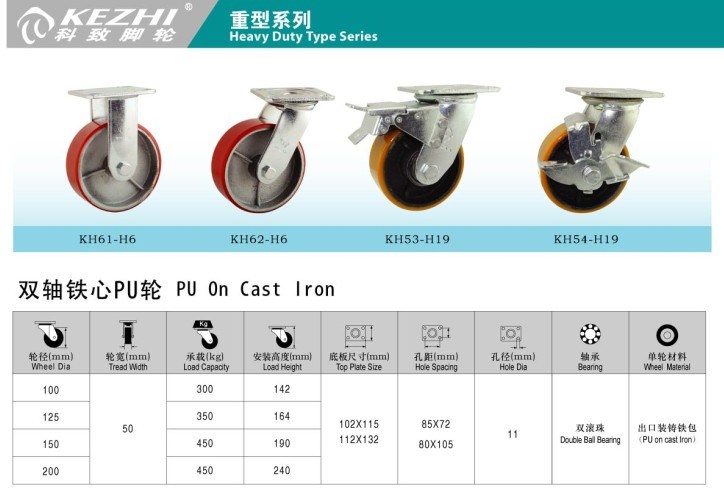 Fluid Fertilizer also known as fluid fertilizer, commonly known as Liquid Fertilizer, is a liquid product of nutrients needed for one or more crops. Generally, it is N, P, K, or one of the three major nutrients. As a topic, it often includes many micronutrients.
Liquid Potassium ,
Liquid Boron ,
Manntiol-Ca Liquid Fertilizer
/Sugar Alcohol Calcium,
Calcium Magnesium Ammonium Nitrate Solution,
Potassium Fulvic Acid Liquid
,
Urea Ammonium Nitrate Solution(UAN),
Macroelement Water Soluble Fertilizer.
Amino Acid: 10%
Fulvic Acid: 4%
Fe+Cu+B+Zn+Mn: 2%
Liquid Fertilizer
Liquid Fertilizer,Liquid Potassium, Liquid Boron, Manntiol-Ca Liquid Fertilizer, Potassium Fulvic Acid Liquid, Macroelement Water Soluble Fertilizer
SHIJIAZHUANG HAN HAO TRADE CO., LTD. , http://www.hhfertilizers.com