No model is static. From the "department store" era to the "big store" era to "line + offline + logistics" in the new retail era, the popularity of big data, cloud computing, and mobile Internet technologies has been proposed for the home sales network under the monopoly system. New higher requirements.
In the traditional retail era, we use old methods for shopping, and we need to spend on supermarkets to buy the goods we need. Today's new retail is the shopping that makes full use of the Internet and intelligent devices, or reconstructs retail space with advanced Internet technology and hardware, and fully considers the user experience.
 
In the era of new retail, how to seize the opportunity and take advantage of the situation is a matter that every enterprise and business entity in the era of new retail must seriously think about. With the arrival of the new retail era, what are the upgrade directions for future terminals? The launch of Shang Pin Cang C store and Sophia & Tmall wisdom store has brought new thinking to the home furnishing industry. Today, FAN Jushi brings you a glimpse of one or two.
Shang Pinjia C shop   Multiple business agglomeration
 
Recently, the first superstore (also known as "C Shop") that advocates the "slow life experience" was opened in Shanghai.
 
Different from the previous direct flagship store, C stores are not only equipped with household products that still offer goods, but also gather a number of brands such as 12HOURS COFFEE, PHOENIX, Thai Flute, and Youbao, aiming to eat, drink, play and enjoy music. Diverse life blends into one.
 
The newly opened C store is located in the colorful city of Xuhui District. It covers an area of ​​more than 3,000 square meters. The decoration style is fashionable and young. Here, not only can you customize your favorite furniture, but you can also feel the brand of light luxury and personal life. Culture, in line with current consumption concepts and spending habits after 8090. This is also the first time that Shang Pinjia has used multiple formats to integrate operations. It divides the store area into multiple areas such as a slow life experience area, a parent-child play area, and a home experience area, and simultaneously introduces coffee, floral, hand-made, unmanned retail, and electrical appliances. Services and other specialty brands create a new experiential consumption space for consumers. It can be said that "C shop" not only turns shopping into a kind of enjoyment, but also allows consumers to experience a better life.
 
The opening of this C store also means that from the original design platform to the experience hall, Shang Pinjia has completed self-iteration from product to service and life style guidance. "C Shop" is not only a custom home experience shop with both design and functionality, but also a pioneering lifestyle concept store. More precisely, it is a trend lifestyle that gathers new generations of creativity.
 
Shang Pinjiao has always been a physical chain business model, physical stores including direct sales stores and franchise stores, including direct sales stores including flagship stores (O shop) and standard stores, O shop practical area of ​​2000 square meters, and standards The store has a practical area of ​​about 300 square meters, while the C store is essentially an upgraded version of the traditional O shop. Compared with O shop, C store not only has a larger area, but also adopts a multiple business mode of collective business model. According to Qi Xiangdong, general manager of Shangdong Shangdong, the main reason for adopting the new model is to consider the relative "cold" aspects of the home industry, and hopes to achieve a greater degree of diversion in shopping malls by enhancing consumers' experience.
The transformation of customers is a key issue. In fact, the delivery of these products and these settled brands are also modes of mutual drainage. In terms of brand selection, the company is also more inclined to multiple demand scenarios. For example, in the C store, there are two Internet home improvement brands, the main space of love space is full-fitting, and iColor is the main office. Qi Xiangdong explained that the impact of real estate control policies, the relative slowdown in demand for packaging, but it also gave birth to the needs of housing acquisition and transformation, in this context, iColor and love space complement each other, consumers can also take what they need.
 
Li Jiacong, general manager of Shang Pinzhai also said that "C Shop" not only provides customized furniture experience, but also focuses on the collection model to collect different brands to create a multi-in-one consumer experience for consumers. The "model" is not just a simple superposition between a brand and a brand, but it is an effort to cover all aspects of the "one-day life cycle" of consumers and to convey the idea of ​​urban life that is slow and free.
In fact, whether it is a directly-operated store or franchise store, physical stores are still goods delivery network to open up the resources of the online and offline, and the flagship store area is large, is specifically for the O2O business drainage "facade." Shang Pinzhai began to lay out its online marketing channels early on. The company acquired Xinju.com in 2009. However, in the past two years, Shang Pinjia has increased the speed of opening stores online. As of the end of 2017, the number of Shang Pinzhai franchise stores has reached 1557 (including shops that are being renovated); the total number of direct-operated stores reached 85.
 
Shang Pinzhai has always been a vane of channel innovation in the home industry, and consumer demand is more diversified. Therefore, higher requirements have also been placed on the integration of retail formats. From a multi-person strategy to a multi-business strategy, Shang Pinjia's "Super Set Shop" is undoubtedly the first new model of home ecology.
 
Sofia Smart Store Black Technology unlocks new retail
Sophia has been a pioneer in the new retail model in recent years. Sophia has also made many deployments at the strategic level in terms of enhancing the consumer shopping experience:
 
On the one hand, DIYHome and VR are introduced to improve consumers' shop-to-store experience. Consumers can, in a very short period of time, see the home decoration style, furniture layout, and the overall effect of jewelry matching according to their own needs. We feel the immersive feeling directly after the decoration.
 
On the other hand, in order to make it easier for consumers to experience and purchase, Sofia started large-scale establishment of stores in commercial complexes, supermarkets, and even communities last year, which solved the problems of the professional building materials market that consumers have spent a lot of time back and forth from the urban areas. . For example, Sofia opened its stores in Wanda and other supermarkets. Consumers can easily go to the store to communicate with them. After the end of the communication, they can accompany their families to continue spending in the mall. Helping consumers save their time and make consumers more convenient are all considered from the perspective of consumer experience.
On April 15th, Tmall & Beijing Sophia's smart store opened in the Beijing North Fourth Ring, and the newly renovated Sofia store has been completely renewed. It uses Alibaba's technology and new hardware to reinterpret "new retail". The Sophia Smart Store is an upgrade based on the original store. The first time the new store will use the four "black technologies"—face recognition, 3D scene roaming, AR projection, and cloud shelf—applied to stores, combined with big data, Artificial intelligence and other innovative technologies and means to achieve the full integration of goods, services, members and transactions, the layout of a new shopping experience with consumer home demand as the core.
In the store, there is a shopping guide screen. Consumers can use the system instructions on the screen to complete facial information collection and generate their own shopping accounts. At the same time, they can directly bind Taobao or Tmall account, and then they can perform independent orders and experience in the store.
Because some consumers do not like shopping guides to "interfere" with themselves, so with this system, consumers are free to buy, just like shopping in the supermarket as free and convenient.
The 3D scene roaming is through the cloud screen in the model area, the IPAD screen on the hands of the shopping guide, and the consumer's environment is restored in 3D.
For different styles, consumers simply swipe their fingers, Nordic style, new Chinese style, small American style, classical style, Mediterranean style, simple style...all styles of home scenes are free to switch. No longer need to look at the sample pictures as you did before, or look at the renderings provided by the designer.
And consumers can rotate to see, just like in the real scene, can be seen from top to bottom and from left to right. The degree of experience has greatly improved, and it has also increased the sales rate and sales performance.
Cloud shelf offers a wide range of commodities at any time. In order to ensure that consumers can experience "one-stop" experience at home, in addition to the numerous products on display in the store, there are thousands of products available in the "cloud shelves" in the cloud screen for consumers to choose from. All styles and all categories are included.
For AR-branded products, consumers only need to scan the two-dimensional code, and they can project the product around with a 1:1 effect and view the overall home improvement effect. Convenient!
The Beijing Sofia Smart Store uses smart devices, digital equipment and other devices to drive data, use scene values ​​to communicate and drive, and use intelligent human-computer interaction to experience the drive. We want to realize traditional retail and "people (customers), goods (products) Restructuring of the three core elements of the "Field and Store".

Through big data, online Tmall + offline 2000 entity stores, the country's five major processing and manufacturing plants, huge amounts of imported German data management automated production equipment, the introduction of Oracle integrated data management system, hundreds of people technical R & D team support, but also to create A door-to-door service network covering major areas of the country (including Tibet, Hong Kong, and Taiwan). In addition, the construction of the above resources and the start of force are only from the beginning of 2015, but so far but over two years. Sofia also gradually unveiled the clear face of "new retail" in the form of a case.
Attached:
What is a custom home?
In a general sense, we define wood custom homes as: "Use wood materials such as wood and wood-based panels as main raw materials, and meet the individual needs of indoor homes through field measurement, design, factory production, on-site installation, and acceptance procedures" .
Then how do we define custom home? According to the two characteristics of customized home personalized needs and large-scale customization, it is a set of companies, customers, suppliers, employees and the environment in one, under the guidance of system thinking, use the whole The optimized viewpoint makes full use of various resources already existing in the company. With the support of standard technologies, modern design methods, information technology, and advanced manufacturing technologies, according to the individual needs of customers, mass production at low cost, high quality and Provides efficient production of custom products and services. Simply put, custom home is a manufacturing model that meets the individual needs of customers by means of mass production.
The range of custom homes mainly involves 6 spaces: living room, bedroom, kitchen, dining room, bathroom, study room, etc. The product chain involves mobile furniture, custom wardrobes, cabinets, floors, wooden doors, wooden stairs and so on.
China's custom home situation
According to the survey, with the ever-increasing competition in the industry, custom home development trends have gradually shifted from plate-type customization to full-house custom customization, and the product chain has been gradually improved and enriched. In 2017, the mainstream custom home companies basically completed the "all-house custom" brand strategy upgrade. The first "home customization" from Shang Pin's home delivery is unique, and the later Europeans, Sophia, Hollywood, and Marg have all turned to "custom house customization". According to relevant experts, the customization industry will maintain an annual growth rate of more than 20% in the next five years. By 2020, the market size will exceed 200 billion yuan, and the outlook is very optimistic.
At this stage, the custom home industry is very prosperous, but it is also mixed with many problems.
1, the standard issue
The overall performance of the custom home industry is a lack of standards and cannot meet the demand.
Experts explained that the current standards cannot adapt to the requirements of supply-side reforms, lack the rules for protecting the rights and interests of related parties, and lack systemic considerations for custom home furnishings. With the advancement of supply-side reforms, the content of custom home participants and services has undergone major changes. Among them, designers have added links to design plans and extended the time for product shipments. Product + service has become the main theme. At the same time, because custom home products belong to emerging products in recent years and belong to tailor-made products, there are no clear provisions in design schemes, contract contents, service timeliness, acceptance standards, warranty returns, etc., resulting in frequent occurrence of finished products. , deeply criticized by consumers. Not only that, there is also a big loophole in custom home products and product integration, product and building coordination, and there are often goods out of stock.
2, quality problems
According to the report on the quality of major domestic products in China in 2016, on the whole, the odor, formaldehyde, etc., are far from the consumer demand.
Quality is an important basis for consumers to buy furniture products. However, there is a problem of excessive formaldehyde content in both standard furniture and custom homes. According to statistics, there have been a number of incidents in which excessive levels of formaldehyde have caused poisoning during the three years from 2014 to 2016. At the same time, consumers are very sensitive to the problem of strong home odors. It is understood that customers have complained that the refurbished cloak room smells bad. In the morning, they enter the cloakroom to change clothes or sleep in the room at night. They often feel dizzy and disgusted. They suspect that the company's product formaldehyde. Excessive standards require the removal of odors. The customer has used the fan for a month and the odor is still difficult to eliminate.
3, brand issues
First, the number of well-known brands is small, and brand quality has yet to be improved;
Second, brand cultivation and brand protection efforts have yet to be strengthened;
Third, the brand evaluation system and brand service system are still not perfect;
Fourth, the company's investment in brand building is not enough;
Fifth, the brand's intrinsic value needs to be strengthened, such as stable quality assurance, good after-sales service, and release of social responsibility reports.
4, service issues
First, there is not enough emphasis on services.
Second, the lack of service standards;
Third, the implementation of discounted;
Fourth, there is a phenomenon of arbitrary charges in services.
In short, at this stage, the gap between the service quality of the custom home industry and the demand of consumers is still relatively large.
Custom home opportunities and challenges
Judging from the national development process, the emergence of customized homes conforms to the national consumer product standards and quality improvement plans and meets the requirements of the "Made in China 2025" charter; from the perspective of industry development, customized homes meet the industry's transformation and upgrading and supply-side reform needs; From the perspective of consumers, customized homes satisfy consumers' increasing personalization and functional requirements, allowing them to maximize the use of indoor space, improve decorative effects, shorten the decoration cycle, reduce pollution, reduce energy consumption, and reduce costs.
However, the future is both an opportunity for custom homes and a challenge. At this stage, most customized brands launched on the market are "customized" in size at most. Some people in the industry believe that the current custom furniture is more of an extension of the concept of the previous home.
Summarize the current development of custom home furnishing industry. In the future, custom home furnishing will present two major development trends: green environmental protection and brand service. However, according to expert analysis, there are only a few companies that can do overall home customization. Most of them are still based on individual customization; some enterprises in the custom home industry are not standardized in operation, and consumer satisfaction is low; some enterprises and green (green design, Raw materials, manufacturing, products, etc.) The gap in the requirements of the home. It can be seen that custom home companies should also make persistent efforts.
Plate
(1) MDF: Medium Density Fiberboard, Flooring - High Density Fiberboard, Ozon Board - Imported MDF.
(2) Particle board: solid wood particle board, musk board - straw board, Ou Song board - oriented shavings.
(3) Wood board: special plywood, wood core board, blockboard.
(4) Multi-layer boards: Multi-layer solid wood, multi-layer plywood, floor - multi-layer solid wood.
(5) Solid wood: toothed plates - fingerboards, fir boards, solid wood veneers, high-grade logs.
Sealing
The following points should be noticed on the edge of the sheet: 1. Edges must be sealed on all four sides; 2. Considering that the strength of the edge must be uniform, it is better to use the edge banding machine instead of the manual edge banding for the sheet edge banding; Process is a molding; 4 glue is used in environmentally friendly hot-melt adhesives; 5. Edge strips are common in PVC and ABS two, according to the normal situation, the effect of ABS material is relatively good, but Due to higher production costs, so the price is higher; 6 good edge strip or multi-faced edge strip can only reduce the amount of formaldehyde per unit time (that is, the discharge rate slows down), and will not put the sheet of formaldehyde The content decreases.
Accessories
Hardware accessories are one of the keys to determining the service life of furniture and need to be carefully screened. Take the hinge as an example. In order to avoid the rust problem, the hinge should be double-plated with nickel, and it must pass the manufacturer's 24-hour salt spray test. In addition, the good hinge can be opened 200,000 times in the case of switching 3 seconds/time.
valuation
There are four types of pricing methods for custom furniture : 1. Area: Count the area of ​​partitions and vertical plates, multiply the unit price of selected plates, and whether hardware will be given according to the brand; 2. Projection area: long X high X unit price, hardware gift; 3. Unit cabinet calculation: businesses in advance to make every standard cabinet, drawers, partitions and other corresponding quotes, consumers free to combine according to personal needs, whether the hardware will be distributed according to the situation 4. Software automatic calculation: The software calculates the actual consumables (including hardware) and working hours for each design plan, and finally generates the quotation.
Expert advice:
Custom home related companies need to pay attention to relevant national policies; Actively participate in the development of custom home related group standards, industry standards, national standards; Concerned about the new standards (such as GB 18580-2017, "green product evaluation panel and wood flooring") quality requirements Concerned about the problems of formaldehyde, VOC, odor, etc. in custom homes; Concerned about national cleaners' production and environmental protection requirements of the national environmental protection department; Concerned about the recycling, utilization, and disposal of discarded custom household products; Attention to the innovation and application of materials and their products; From the order, measurement, materials, design, manufacturing, packaging, transportation, installation, service of the entire system construction; spend effort to study the new needs of consumers!
PVC Super Matt Edge Banding we adopt quality PVC raw material, German UV and ink, JOWAT primer. Thousand designs, 0.35-3.0mm thickness and 12-620mm width. All high-edge raw materials to make sure our PVC Matt Edge Banding is the first class products in this world. Sinowolf Plastic Dekor CO., LTD always focus on producing best quality edge band. Using high-end raw materials, all chemical additives import from Europe, to make sure our plastic edge banding keep stable quality 3-5 years. Our products range include PVC edge band, ABS edge band, 3D PMMA acrylic edge band, Aluminum edge band.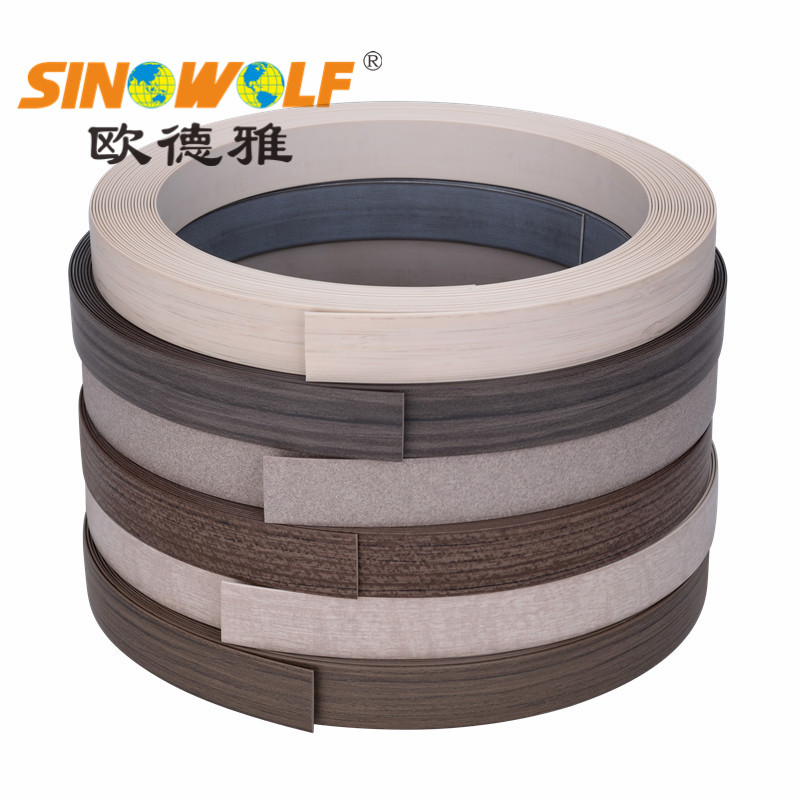 PVC Super Matt Edge Banding, PVC Matt Edge Banding, Matt Finish PVC Edge Banding, Supper Matt Edge Banding, PVC edge Banding Matt, Matt Edge Banding PVC Edging
Sinowolf Plastic Dekor Co., Ltd , http://www.sinowolfdekor.com