PP (Polypropylene) /Nylong wheel casters, 1.5 inch flat-tapped events, Light duty
Model: ECO3817
Our company specializes in designing and manufacturing all types of light-, medium-, and heavy-duty industrial casters for medical equipment, kitchen supplies, chassis, cabinets, machinery and equipment, furniture, industrial areas, office buildings, libraries, restaurants, transport logistics and transportations of materials.
Products including:
Material:
Nylon / Rubber / PU(Polyurethane) / PP (Polypropylene) /PC (polyviny chloride) / Steel / Modified Nylon/
Man-made plastic / Hard Rubber /Soft Rubber / Conductive round /Gray plastic /Casti iron wheel
Stenttype:
Flat top events /flat-topped double brake /flat-topped double brake
Fixed/directional
Screw events/screw double brake/screw side brake
Rod inserted events / play double brake /brake rod inserted edge
Side rod events/double-side brake/ side shot side brake
Hole top events/ top-hole double brake / top side brake hole
Characters of our wheel casters:
Resistant casters load, durability, excellent start, convenient installation, newest design, cost saving.
Standard:
ISO9001: 2008
(RoHS & WEEE) and REACH
Good quality, Reasonable price, Best servcie, Fastest delivery!
The Quantum LED Grow Light category is mainly about our K series quantum Grow Light, K1000 k2000 k4000 grow lights available, with upgraded sunlike full spectrum SMD LEDs and UL Listed IP65 Waterproof Driver are better for all kinds of Indoor Plants.
It includes essential 660nm red and full spectrum white light, providing everything plants desire for in the natural sunlight, makes your plants healthier and happier.
BOOM YIELD LED GROW LIGHT, NEWEST SMD 3030 LED TECHNOLOGY - Bigger size, super bright high efficient upgraded SMD 3030 led technology provides highest PPFD output, makes you get 30% higher yield compare OLD led lights, can get max yield at 2.5g/watt, less pay but get more yield, bring a amazing grow trip to any home grower.

FLEXIBLE 10-LEVEL DIMMING, VERY CONVENIENT - There is a dimmer knob built right into the grow light panel, featured to manipulate the light brightness and intensity at liberty from 0%-100%, provides desired needs for plants in all stages from veg to bloom. It is definitely very convenient when using it for vegging so you can turn it down on the young plants. In flowering, you just leave it on 100%, allowing plants flexibility to obtain perfect growth performance.

OPTIMAL SUNLIKE SPECTRUM, NICE ON EYES - Consist of full spectrum White 3500K 6500K and Red 660nm LEDs, infinitely close to natural light, providing everything plants desired in the natural sunlight. It's suitable for all plants growing stages, rapids plant response from seed to flower to harvest, increasing yield & crop quality. Uniform and wide-beam light distribution for your plant's optimal growth. No more red blue light. All sunlike spectrum, it's really nice on eyes.

WELL MADE & ENERGY SAVING & LONG-TIME WARRANTY- No fans zero noise. Large areas of solid aluminum heat sinks help you to achieve the ideal cooling system. Adopts high safety performance UL waterproof driver to achieve high PAR output, longer lifespan to speed up plant's grow processes and boost yields while saving you on your energy bill. Saves up to 80% energy than other led grow lights.

3 Year Warranty. And Friendly In-time Customer Services.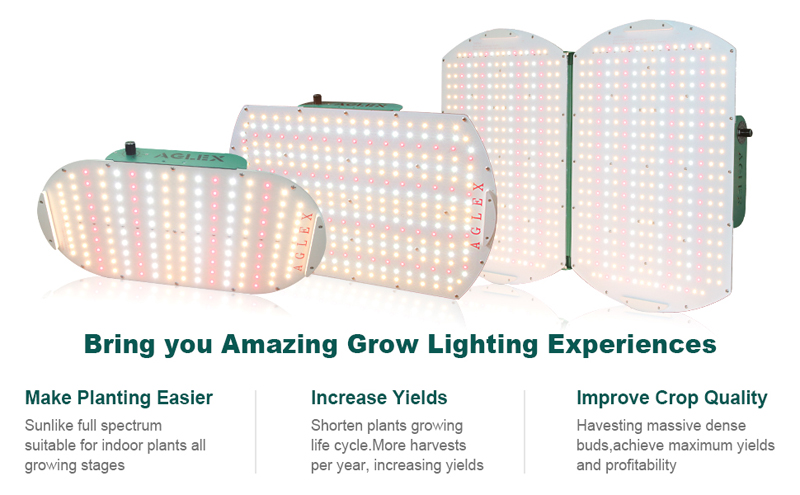 1000W LED Grow Light, 3500K Grow Light, 6000W LED Grow Light, LED Grow Light Full Spectrum
Shenzhen Ameri Technology Co., Ltd. , https://www.aglexz.com